Hi guys,
With the map builder looking like it might be coming out fairly soon, I created this thread to start a running list of ideas for locations/landmarks in custom maps. Since not everyone watches the show a lot, I thought this would be a nice resource for thoughts on what to fill those maps with. I know one could just go on the Wiki and look for locations but this is probably more filtered and convenient (let me know if you disagree.)
I'll start this off by suggesting the O.K. Car-ral, aka Canyonero dealership (Marge Simpson in "Screaming Yellow Honkers").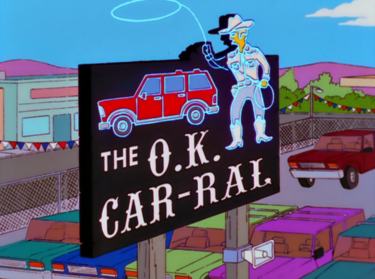 Great place for a car vendor, and you could potentially modify the traffic in the lot area and make all the parked cars Canyoneros.
Try to include an image if the location is taken straight from show material; imagined locations are fine to post here too.